George Boyadjiev, Pfeifenmacher aus Bulgarien in Sofia

Beschreibung


The Team of Pfeifenkonsulat had the chance to talk with George about his vita, work and philosophy about pipe making:



I have started to make pipes about 7 years. After starting to smoke pipes at about my 16, collecting pipes all the time, I've realized that there is an option to buy pre-bored blocks from Mark Tinsky and this was my start. Pre-bored block, moulded stem and some files, sandpaper and knives.
About seven years later, I have my little workshop equipped as well as possible and much more knowledge about pipes and pipemaking in my head. For me the pipemaking is the way to express my craftsmanship, to satisfy my curiosity regarding design and function, materials differences, etc., and maybe at first place the pleasure to communicate with the pipe community worldwide.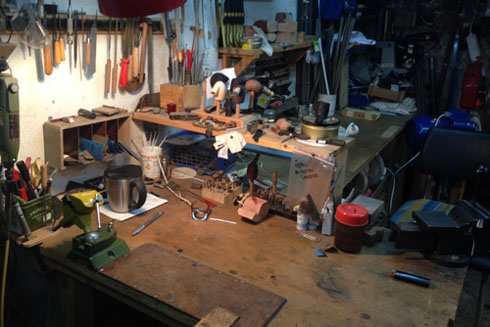 All these things provide me with the good feeling to be connected, to share and participate in some kind of friendly competition working with my own hands and expressing my own vision for the pipemaking, forms etc.




There is no rules for pipemaking. I mean no rules like "this has to be done that way" or "this is not the way you have to do the thing." No. If I feel I have to drill by hand - I drill by hand; if I feel the particular pipe should be drilled on a lathe - I drill it on the lathe or prior shaping, etc. In that moment, when I start making things like someone telling met hey should be done, in that moment I loose the control over the shape and what I feel is the way I have to work, the music sounds great in my ears, and the wood is responsive in my hands telling me what it wants to be. There is no way to make a mistake when I feel the shape and form is in my mind.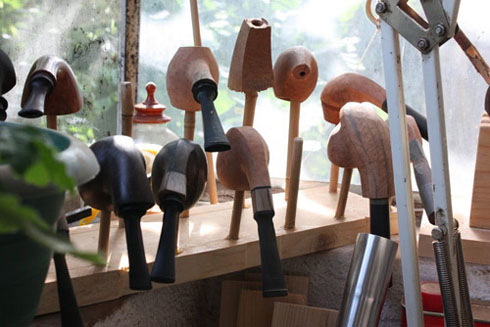 I've started with the good feel that I can do things right. Next I've realized that it is not so easy. Anyhow, I've decided to learn myself. As far as there is not other good option for me I've learned from internet, forums, pictures and especially from my own mistakes.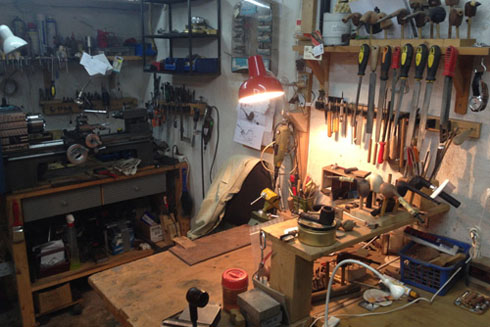 I am working with best briar I can buy from different sources. Lately and preferably I am using Italian sources for my briar purchases, but not only and limited. For example, I am often using briar from Greek mils and especially giant blocks. I am sorting the blocks very carefully and keep some special blocks for special pipes and projects, e.g. The Twins the Pumpkin, creation of the twins . My briar is aged for at least 6 months in my workshop depending of the source.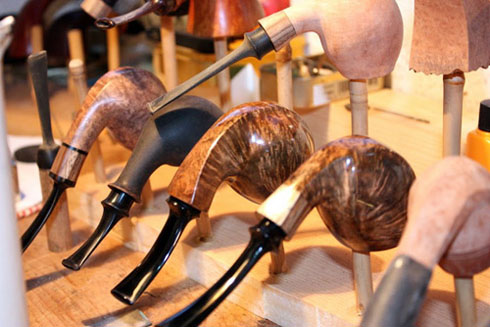 For the mouthpieces I am using German Ebonite rods, occasionally Acrylic rods and Cumberland. I am not using any pre-made/moulded mouthpieces in my pipes, as far as I don't like them, also I don't like the material used for such mouthpieces. Almost every time I use Delrin or Teflon rods for the mortises, because of the qualities of these materials to avoid sticking of the tenon in the mortise hole. I like thin mouthpieces, therefore I made them thin and comfortable.

I make many repairs and pipe restorations of old and/or broken pipes. This gives me additional knowledge and skills.
Yours George Boyadjiev


© copyright Pfeifenkonsulat