Here are some words about me…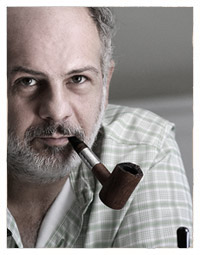 The Team of Pfeifenkonsulat had the chance to talk with Kostas about his vita, work and philosophy about pipe making:


Dear friends of Pipe-Embasssy aka Pfeifenkonsulat!

I come from Greece, born in Athens in 1961 and grown up in Xylokastron of Peloponnese.

Now I live in Athens, at Chalandri suburb, with my wife two children and… my dog. I studied Mechanical Engineering but never tried it for living.

Singing and playing the guitar, making jewelry, being a photographer or a software developer in my "Artemis Computers and Software Ltd" company, helped me grow up and finally discover another new way of spending my life…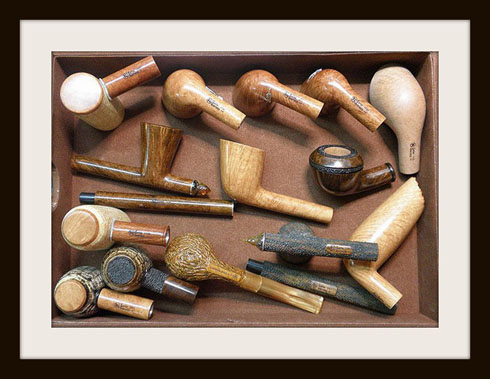 I smoke a pipe since I was a student, back in 1979 and started making pipes for myself along with other woodturning crafts. My hobby, making Smoking-Pipes, became a passion when the Greek Pipe-club asked me to be a member. Being self-tought and studying several masters in the internet, this became my sole profession since 2005.

I will always remember the Danish pipemakers-comunitee I visited, that helped me a lot (Eltang, Former, Ilsted, Andersen, Nanna, Manduela). Thank you Denmark, especially you Mr. Eltang!





The Aspida System

From the beginning, I came up with a bright idea-invention called «Aspida» that acts as a superior filter. Actually better than a conventional filter my customers say… "«Aspida» (a Greek word which means "shield"), consists of a small aluminum insert fitted between the pipe bowl and mouthpiece, able to accept a normal filter.

>>> Watch the Aspida System by Kostas Gourvelos <<<

On the nose tip there is a vertical flat surface, where the hot smoke steam hits against and so acts as a: Smoke cooler - Excellent natural multi-filter - Moisture trap - Humidity regulator.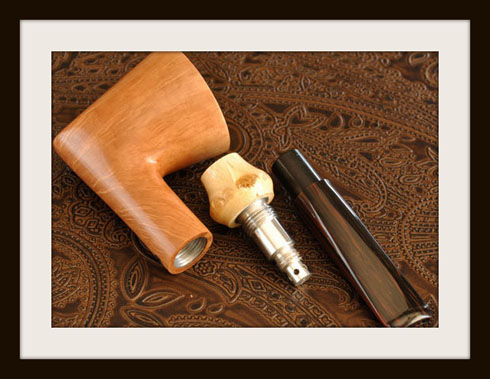 Apart from these benefits, Aspida permits me to have just one common shank/stem for multi bowls. This gives me the advantage to make tests using my known and favorite bowls and immediately change my whole rotation from filtered to non-filtered or to Aspida or any combination in between (or new ways I try!).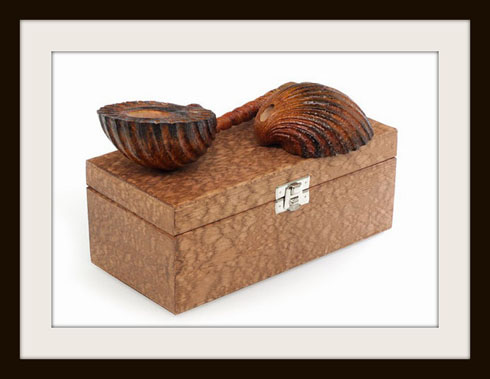 Greek briar, 4 to 9 (no more!) years old, is the best smoking wood for me and I choose it personally piece by piece. I'm looking for the best materials, use both ebonite and acrylics in many colors and I add many decorations. This is my style.

Wood-lathes are the main machinery that helps me. You see, using a wood-lathe you drive the tool by hand, so you can transfer the shape and the curves "of your soul". My metal-lathes are used when I need special precision. I make about 70 pieces a year, smooth, sandblasted and several rustic styles.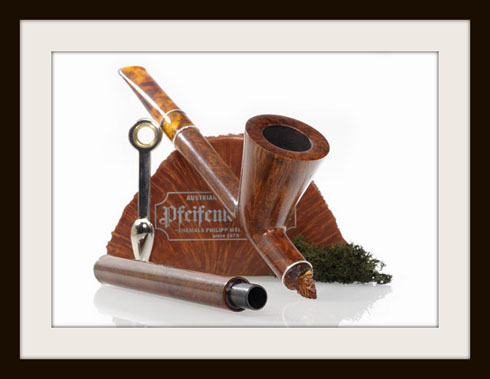 There are two techniques I use in pipe making:

The first one needs inspiration and idea. This idea becomes a draft sketch, giving turn to detailed drawing and precise execution.

The second one is based in just looking at the briar itself. Its form, lines, grain and curls guide me to follow "its words"…


I am in favour of many classic forms. But I find them to be very "strict" or permit me say "old fashioned". It's like black and white photo to me and they seem to my eyes like they are not matching today's world. I prefer to give more light and transfer joy and life. ac




I do spend much time in sketching and imagining new forms and how to transform whatever I like from my surroundings, to a pipe shape.

Besides, I'm used to smoke a lot and inhale (about 6 bowls per a day), spending much time trying to find the best airflow in taste feeling along with "safer" ways.
Good luck,
Yours Kostas Gourvelos

>>> to Aspida System by Kostas Gourvelos <<<

© copyright Pfeifenkonsulat