© article and photos by Kostas Gourvelos 1/2

 T h e   A s p i d a   S y s t e m 


Many years now, I prefer to smoke in my own way: using Aspida. The name originates from Greek language and means: Shield. It's a new fabrication of mine that I would like to speak about, today.
Aspida consists of a small aluminum insert fitted between the pipe bowl and mouthpiece, able to accept a normal filter at the back. Aspida's idea started from my effort to eliminate tongue bite and several liquids that were reaching my mouth when smoking. During practice, I came across a great surprise: It was also reacting as an unrivalled-natural filter!
The following draft drawings show more details:
(These are draft drawings, not showing the exact geometry of the final products)
It is made, piece by piece, on a metal lathe: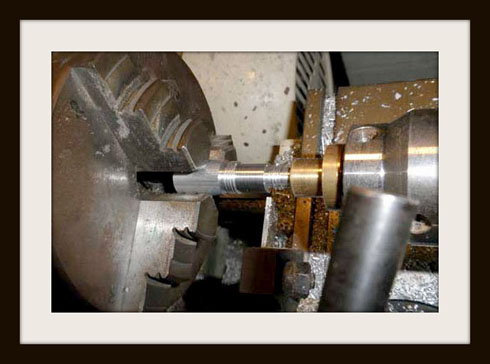 On the nose tip there is a wall, a vertical flat surface, where the hot smoke steam hits against. By the side there are 6 small holes of 1.7mm each. (6 x 1.7mm = 10.2mm equal diameter - thus there is no obstruction when sucking). On the opposite side there is a deep hole of 8.8mm diameter (for any kind of 9mm filter), which guides to a 10.3 or 10.5mm diameter to accept the corresponded tendon of the mouthpiece.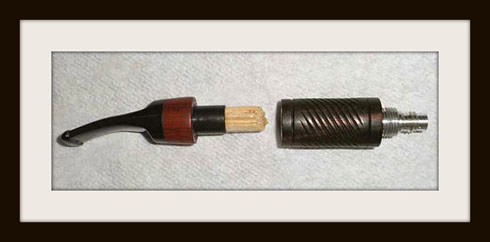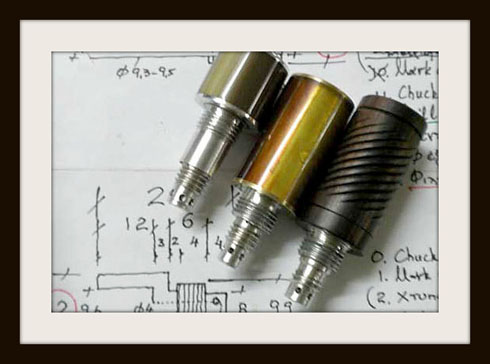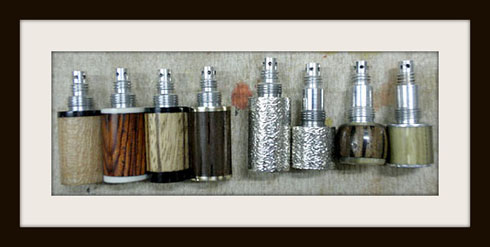 The outer-visible length of aspida can be 30mm or 17mm or 8mm or even sightless...
 Cooling the smoke 
In a theoretical view we suppose that when the hot smoke comes in contact with the colder metal will get cooler. The hot air will hit against the wall, resulting to the first liquefaction. Then comes in contact with the side surface (more metal) and finally will be forced to pass through the small holes.
Entering these small holes it gets compressed and thereafter it expands getting into the wider internal room of aspida... Too much theory? All these things happen? A little more to the end: Additionally the smoke is spinning. Expanding and spinning causes more liquids to generate and even more cooling... Practice: Let's follow this hot steam with a special thermometer and some photos. This thermometer pictured, is a special one (although cheap enough if someone wants to test) and can measure temperatures up to 70º Celsius. It incorporates a tiny heat sensor to get into small openings and a digital display. And the trials started...
Not to bather you any more, the straight result is that we have a temperature drop at least 4º Celsius in the worst measurement. It happened to be 7º when smoking at low level of the bowl! That is why I don't experience tongue bite or any liquids in my mouth... This means that we can smoke some "difficult" tobaccos too. Or be somehow nervous in our smoking, because we are used to rapid smoking, or just happened for a moment.
On the other hand in every pipe there are more materials except wood. Glues, acrylic, ebonite, paints, plastics in filters. All these are sensitive in heat and can produce unwanted fumes. By cooling the smoke we keep the whole pipe cooler. Thus all the materials are stable and functioning properly.
 Humidity Regulator 
Firstly, aspida operates as an excellent moisture trap. Thus we'll never taste any liquids in our mouth while smoking.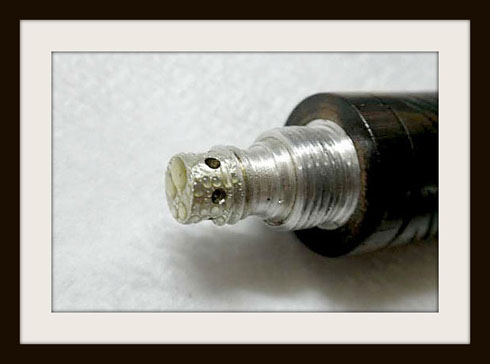 Furthermore, for those of us that cannot bare much moisture to their puffing, aspida can operate as an ideal moisture regulator. It grabs the excess liquids and this way we can smoke a tobacco right from a just opened tin without much notice.
 Filtering Aspida 
detains some water-drops on its tip. These drops act as a perfect-natural filter for the smoke.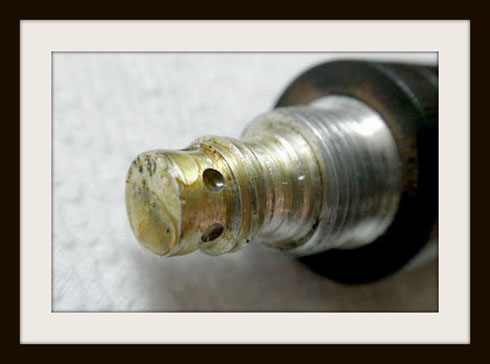 Small tobacco particles, even ashes (when approaching the end of the bowl) will be trapped and stay at the tip of aspida, preventing entering to our mouth and lungs.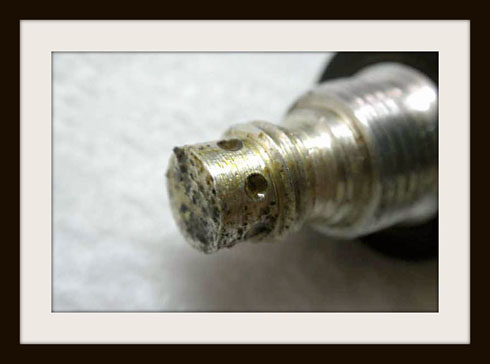 weiter zu Seite 2 / continue to page 2 >>>
>>> Pipemakers News of Kostas Gourvelos <<<

© copyright Pfeifenkonsulat