Dietmar Böck, Pfeifenmacher aus Deutschland

Beschreibung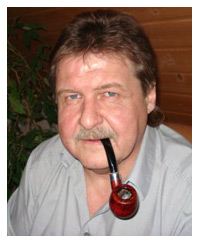 Dietmar Böck wurde am 29. März 1959 im bayrischen Allgäu geboren und absolvierte, nach wachsender Begeisterung für Holzbearbeitung, eine Schreinerlehre.
Inspiriert durch seine liebe Frau, die ihm zum Geburtstag seine erste Pfeife schenkte, kam er recht bald auf die Idee selbst ein wenig "herumzubasteln". Zuerst nur oberflächlich, wo er sich in der Neugestaltung von Schliff und Beize an billig erworbenen Restposten versuchte, packte ihn dann doch der Wunsch selbst einmal ein Rauchgerät herzustellen.
Nach ersten Probeläufen an vorgebohrten Kanteln trat er in die Schule des Meisters Bertram Safferling ein und absolvierte mehrere Pfeifenmacherkurse. Seit 2007 hat Dietmar Böck eine gut ausgestattete Werkstatt und fertigt Freehand-Pfeifen erster Güte.Verarbeitet wird ausschließlich Plateau-Bruyère aus Kalabrien, Ebonit und Cumberland für Mundstücke und erstklassige Beize für ein hervorragendes Finish.
Dietmar Böck steht für handwerkliche Tradition und Perfektion in der Pfeifenbaukunst. Er selbst sieht seinen Vorteil darin, daß er Pfeifen nur zum Hobby fertigt und dadurch genügend künstlerische Freiheit in seine Shapes bringt und auch die nötige Zeit hat, wirklich in Beziehung zu seinen Endprodukten zu treten.

Mit großem Stolz können wir Ihnen, hier im Pfeifenkonsulat, Dietmar Böcks Pfeifen anbieten.

Description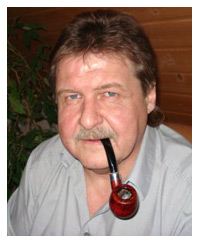 Dietmar Böck, born in 1959 in the bavarian Allgäu, graduated, after growing enthusiasm for woodworking, a carpentry apprenticeship.
Inspired by his dear wife, who gave him for his birthday his first pipe, he very soon came upon the idea even a little "tinkering". First, only superficially, where he tried his hand in the redesign of polish and stains to cheaply acquired remaining stock, grabbed him by then but the desire to establish himself once a smoking device.

After initial test runs at a pre-drilled scantlings, he entered the school of Master Bertram Safferling and completed several pipe makers courses. Since 2007 Dietmar Böck has a well-equipped workshop and manufactures first class freehand-pipes, processing exclusively plateau briar from Calabria, and cumberland or ebonite for mouthpieces and first-class stain for an outstanding finish.

Dietmar Böck stands for traditional craftsmanship and excellence in the pipe architecture. He sees his advantage in the fact that pipemaking is only his sparetime passion, so he has the possibility to bring plenty of artistic freedom in his shapes.

With great pride, we can offer Dietmar Böck's pipes here at the pipe-embassy.
   Skizzen / sketches

© copyright Pfeifenkonsulat