Karl Harkam, Pfeifenmacher aus Österreich

Beschreibung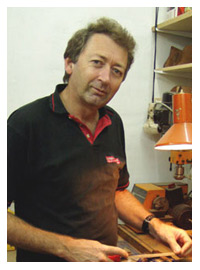 Der Steirer Karl Harkam, geboren 1958, ist kaufmännischer Angestellter und hat vor wenigen Jahren die Liebe zum Pfeifenbau entdeckt. Zuerst nur autodidaktisch, aus Fachliteratur und Internet, erlernt, später durch italienische Kollegen unterstützt, entwickelte er seinen eigenen Stil Handmade-Highgrades zu fertigen.

Durch eine stark limitierte Produktion sind Werke dieses Pfeifenkünstlers ein wahrer Insider-Tip und in der Szene heiß begehrt. Sowohl klassische Formen, als auch verspielte Shapes sind in der Palette seines Schaffens vertreten.

Wichtigste Grundlage ist immer herausragende Qualität in der Verarbeitung und bei den Rohstoffen. Über langjährige gute Kontakte zu einem italienischen Coupeur Namens Mimmo Romeo, bezieht der Pfeifenmacher bestes Bruyère-Plateau und bearbeitet dieses mit Schleifscheibe, Raspel und Feile. Auf fehlerfreies Holz wird geachtet, Auskitten oder Pflocken kommt natürlich nicht in Frage, kleine Unreinheiten im Naturstoff werden belassen. Mundstücke werden aus Stangenkautschuk und Cumberland handgeschnitten und Applikationen aus Edelhölzern, Horn und Bein angefertigt.

Description
The styrian Karl Harkam , born in 1958, is an office worker and has discovered a few years ago his passion of making pipes. First, only self-taught, from literature and the internet, later supported by Italian colleagues, he developed his own style to produce high-grade handmades.

Because of a quite limited production, the demanded works of this pipe artist are a true insider tip in the scene. Both, classical forms, as well as playful shapes are represented in the wide range of his work. One of his specialties is the curve drilling, which he uses for some shapes. This results in an enhanced smoke-draft behavior and thus an increased benefit to the smoker.

His technique developed Karl Harkam himself and is a very closely guarded secret. To any individual item with curve-drilling,Karl Harkam also provides a special suitable cleaning thorn for the respective model.

Main basis is always outstanding quality in processing and in raw materials. Over many years of good contacts with an italian coupeur, the pipemaker applies best briar-scantlings and processed them with grinding wheel, rasp and file. Wood-errors are respected, glazing and other forms of fake are not considered, small impurities in the natural product will be left. Mouthpieces are hand cut from bar rubber and cumberland, and applications are made from exotic woods, horn and bone.
Harkam's Bogenbohrung / Harkam's bow drilling

Die Bogenbohrung
Eine seiner Spezialitäten ist auch die Bogenbohrung, welche er für einige Shapes verwendet. Dadurch ergibt sich ein verbessertes Zugverhalten und somit ein erhöhter Genuss für den Raucher.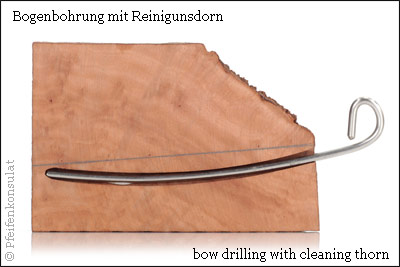 Seine Technik entwickelte Karl Harkam selbst und ist ein sehr streng gehütetes Geheimnis. Zu jedem Unikat mit Bogenbohrung liefert Karl Harkam auch einen speziell für das jeweilige Model passenden Reinigungsdorn.

© copyright Pfeifenkonsulat