Damiano Rovera, Pfeifenmacher aus Italien

Beschreibung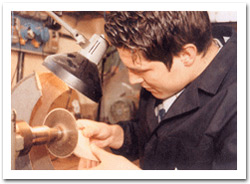 Im Jahre 1911 begann die Familie Rovera in Varese mit der Fertigung exklusiver Bruyère-Pfeifen und wurde in Ihrer Geschichte zu einer der traditionsreichsten Familienunternehmen in diesem Wirtschaftsbereich.

Einer der vier beteiligten Brüder, Frederico Rovera, vererbte die Handwerkskunst an seinen Sohn Angelo und begründete damit die Familientradition, der Generationenübergreifenden Pfeifenkunst. Angelo hatte wiederum einen Sohn, Dorelio, der bereits im Alter von 13 Jahren seine erste Pfeife herstellte und in den 60er und 70er Jahren einer der gefragtesten Künstler Italiens war. Damiano Rovera, Dorelios Sohn, betreibt nun das Handwerk in vierter Generation betreibt und gemeinsam mit seinem Vater für die Marke Rovera verantwortlich zeigt. Mit seinem jungen Temperament fügt Damiano Rovera klassischen Linien, mit raffinierten Silberapplikationen oder verschiedenen Holzarten, eine neue Form von italienischem Stil hinzu. Damiano entwickelt auch eigenständig neue Shapes und Applikationen und geht auch einen eigenen Weg, abseits klassischer Formen.

Im Familienunternehmen werden seit den Anfangstagen nur Materialien höchster Güte, speziell getrocknete Bruyère-Plateaus aus den einschlägigen Gebieten und handgefertigte Mundstücke zur Fertigung herangezogen.

Description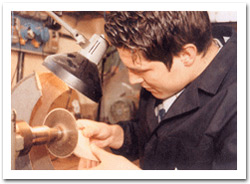 In 1911, the family Rovera started in Varese with the production of exclusive briar pipes, and so they became one of the oldest family business in this economic sector.

One of the four participating brothers, Federico Rovera, inherited the craftsmanship of his son Angelo, and founded the family tradition of intergenerational pipe art. Angelo again had a son, Dorelio, producing at the young age of 13 his first pipe. He was in the 60s and 70s, one of the most sought-after artists in Italy. Damiano Rovera, Dorelios son, now operates the craft for four generations and has shared responsibility with his father for the brand Rovera. With his youthful temperament Damiano Rovera combines classic lines, added with refined silver applications or different types of wood, to a creation of a new form of Italian style. Damiano independently developed new shapes and applications and is also following his own way, away from classical forms.

In family businesses since the early days, only the highest quality materials, specially dried briar plateau from the relevant fields, and handmade mouthpieces are used to manufacture.

© copyright Pfeifenkonsulat