Savinelli, Pfeifenmanufaktur aus Italien

Beschreibung
Im Jahre 1876 eröffnete Achille Savinelli Sr. eines der ersten Fachgeschäfte für Pfeifenraucher in der Altstadt von Mailand. Die kleinen und stimmungsvollen Räumlichkeiten boten einen pulsierenden Treffpunkt für interessierte Genußraucher und inspirierten ihren Besitzer, sich nicht nur mit dem Verkauf, sondern auch mit der Produktion von Rauchgeräten zu beschäftigen. Erste Designversuche wurden bald bestaunt und so entschied man in Kooperation mit Pfeifenmachern aus Varese, die ersten eigenen Pfeifen zu fertigen.
Die Familie eröffnete weitere Geschäfte in italienischen Metropolen und legte so den Grundstein für den guten Ruf des Firmennamens. In den späten 1930er-Jahren richtete sich Achilles Enkel Achille Jr. eine eigene Werkstatt in den Hinterzimmern des Mailänder Geschäfts ein und begann selbst seine Fähigkeiten auf dem Gebiet der Pfeifenschneiderei zu entwickeln. Nach Kriegsende gründete er eine eigene fabriksähnliche Werkstatt in Varese und schaffte es einen Bogen zwischen den begehrten qualitativ hochwertigen Rohstoffen vor Ort und sauberer Verarbeitungstechnik zu schlagen. Diese Entwicklung ermöglichte es erst, italienische Produkte konkurrenzfähig mit international bekannten und bewährten Pfeifenmarken zu machen.
Heute führt Giancarlo Savinelli, Großenkel des Gründers, das Unternehmen und ist weiter bemüht klassisch designorientierte italienische Formensprache mit traditonellen Werten des Pfeiferauchens zu verbinden.
Savinelli Pfeifen sind heutzutage in einer unglaublichen Vielzahl erhältlich. Die Produktpalette umfasst knapp 100 unterschiedliche Pfeifenserien, die in circa 100 differenzierten Shapes angeboten werden. Der Großteil der Produktion besteht aus maschinell gefertigten Pfeifenköpfen, die per Hand vollendet und veredelt werden. Berühmt ist Savinelli auch für seine außergewwöhnlichen Freehand-Serien, die nur von ausgewählten und hochqualifizierten Pfeifenkünstlern aus feinstem Plateau-Bruyère gefertigt werden - hier ist die Autograph-Kollektion am bekanntesten.

Description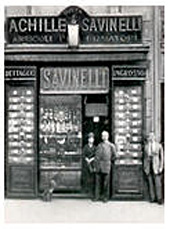 In 1876, Achille Savinelli Sr. opened his first store for pipe smokers equipment in the City of Milano. This shop was one of the first famous meeting places for interested smokers and so, after a lot of discussions an many inspiring impressions, Savinelli began designing pipes, which where produced by pipe artisans in the small town Varese.
The Savinelli family opened some more shops all over Italy and established this special trademark. Just before World War II broke out, Achille Jr., grandson of the founder, decided to start making pipes on himself in the small back of Milano's store. He provided a basis for connecting the local high-quality briar with high-quality workmanship. After the war, Achille Jr. founded the first Savinelli workshop in Varese.


From that time on, the name Savinelli stands for best italian pipe art, competitive to the best-known foreign pipe brands. Today, Giancarlo Savinelli is managing the company in the fourth generation in a very successful way to modernize the company, while keeping its traditions intact.
Savinelli pipes are availabble in more than 100 series and in more than 100 shapes. The main production comprehends predetermined shape pipes, made of high-quality materials and finished by hand. There are also some special and famous unique series, freehand-made by highly skilled artisans using finest plateau briar, like the Autograph styles.

© copyright Pfeifenkonsulat